If you change yourself, you'll change the world
Towards a climate-neutral organic hotel
Make green holidays at IMLAUER Hotel Schloss Pichlarn
You will find a place to relax and enjoy away from the hustle and bustle of everyday life. Plenty of outdoor space, fresh air and impressive panoramic views awaits you. The deep connection to nature is already reflected in the centuries-old Linde in front of the hotel entrance. A careful and sustainable use of resources is a special concern for us and an important part of the IMLAUER philosophy.

This is why the first steps towards self-sufficiency in energy and food have already been taken at the IMLAUER Hotel Schloss Pichlarn:
250 own chickens supply our hotel with eggs. The barn and the associated meadow are only 300 m from our kitchen removed. Every egg that you enjoy pure or in a dish with us comes from our chickens.
The IMLAUER Hotel Schloss Pichlarn has its own water, which springs from the mountains around the hotel. Crystal clear with the highest quality, the 8 springs supply the entire resort.
In order to process fruit from own cultivation in the long term, a fruit meadow with 30 fruit trees was planted. Special care was taken to use a variety of varieties during the selection process. Next to the castle driveway are the 30 trees (apple and plum trees). Another 30 trees are planned.
Herbs, vegetables and salads will be grown in our own greenhouse in order to supply our restaurants with freshly harvested produce. A fine "Naschgarten" with different berries is also planned in the Schlosspark.
A 300 KW photo-voltage system on the roof of the tennis hall is also being planned. The electricity generated will be used, among other things, for air heat pumps and the charging station of the electric cars.
In future, owner Georg Imlauer would like to have his own biomass from the hotel's own forests processed for the district heating that is still needed.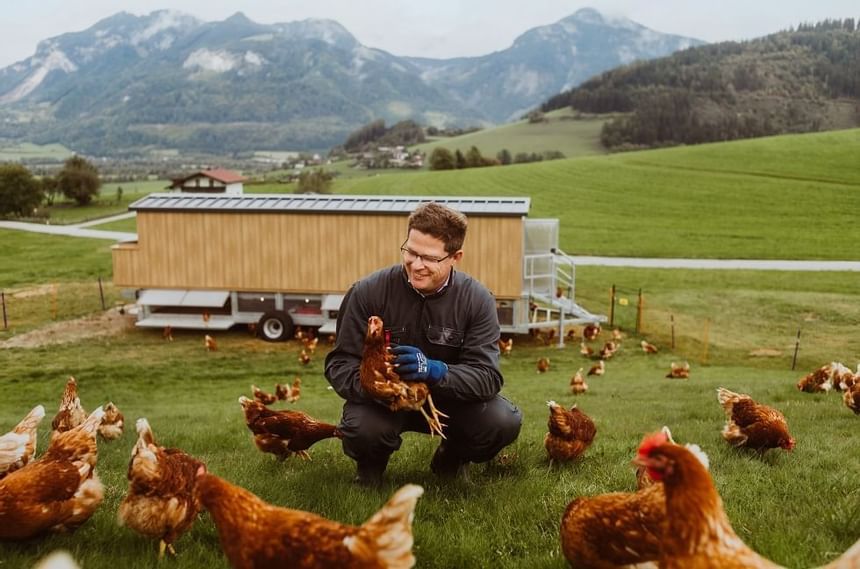 Chrisitan Seiringer is responsible for the barn and foresrty and knows every one of our chickens.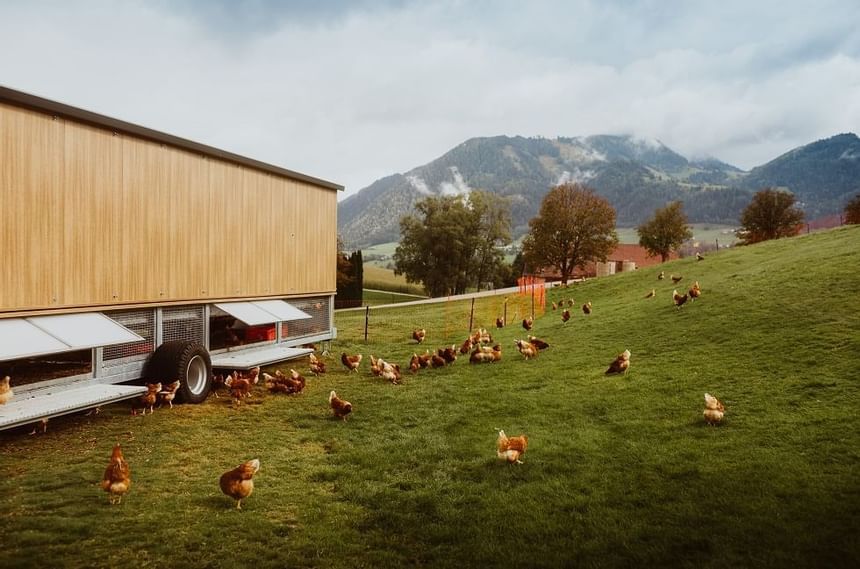 We value a lot of space – in the barn and on the meadow.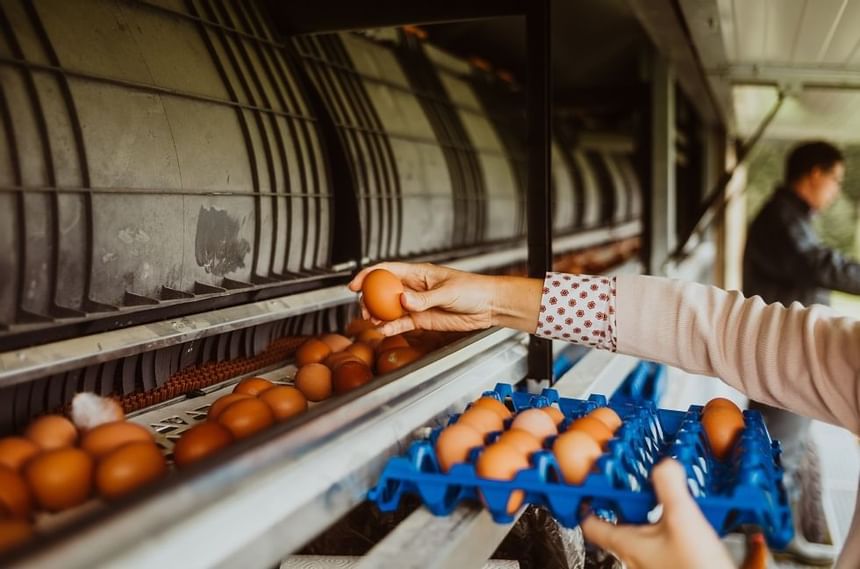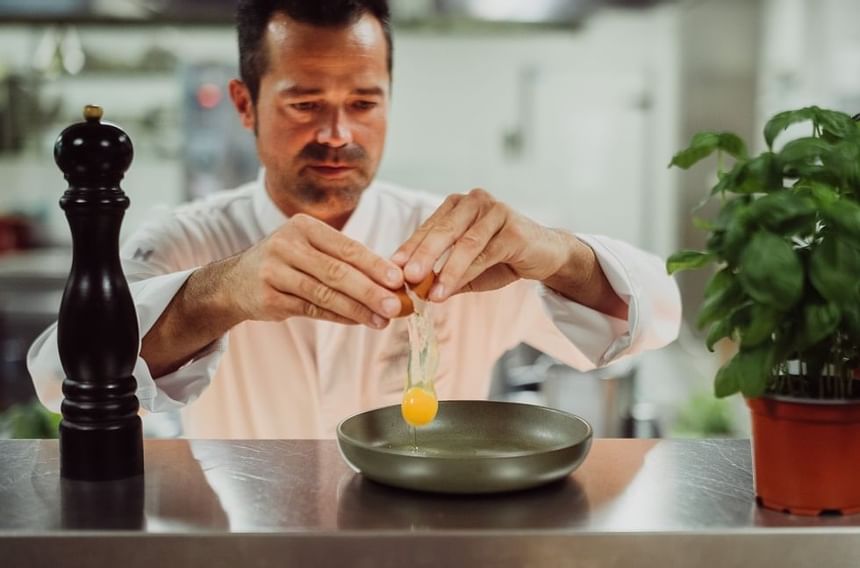 Executive Chef Gottfried Prall and his team only procss our own eggs.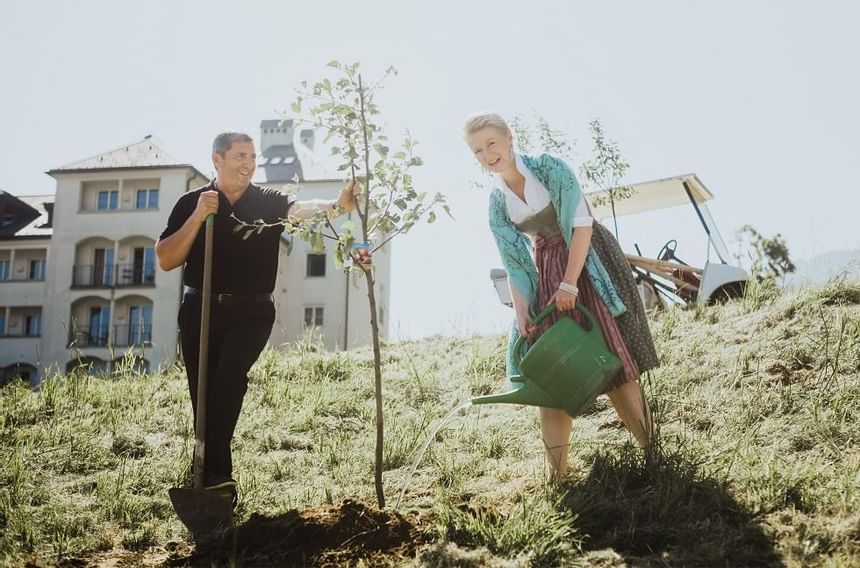 Owner Georg Imlauer and hotel director Ines Wohlmuther-Maier set the groundbreaking ceremony for the fruit orchard.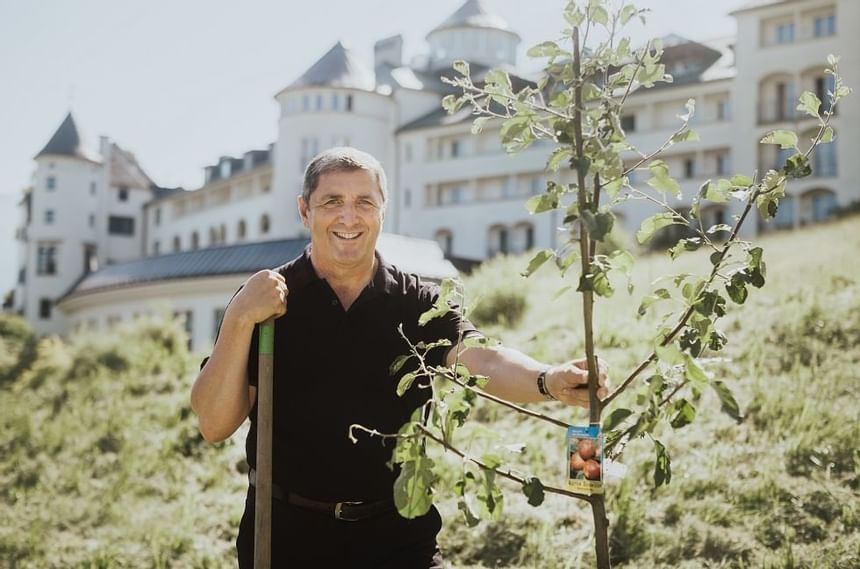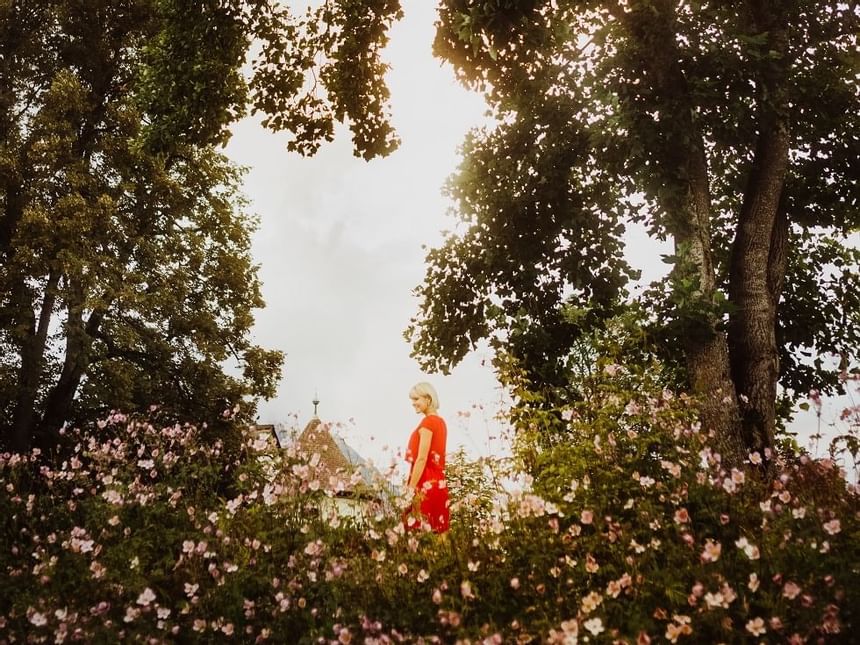 A joyful walk in the Schloss garden.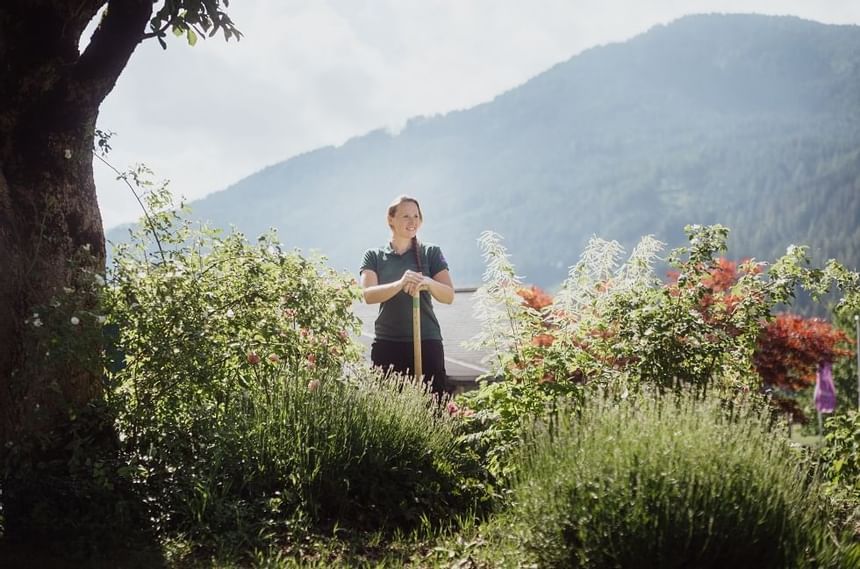 Gardener Simone Singh takes care of the hotel's own fruit and vegetable cultivation, as well as the extensive gardens.