Our castle. ROAMS.
Hiking in 3 regions.
The left foot is steadily placed in front of the right, one step at a time. The path leads through Styria's unparalleled landscapes. The castle knows them all, has seen the admirers of forest, meadow and mountains come and go over all these years. When they return, the emotion on their faces is always the same: that of pure joy. Niko, Herbert and Christian have also arrived, all packed up and ready to set out to discover stunning views and unforgettable moments. The hiking shoes are ready by the door; the castle calls this "lacing up excitement".
Three regions. Well roamed.
Gesäuse
With a total of 500 km of hiking paths in the region.
Schladming-Dachstein.
With 3,000 hiking routes of various lengths and numerous via ferratas.
Ausseerland-Salzkammergut.
With numerous via ferratas and 79 hiking routes of various lengths.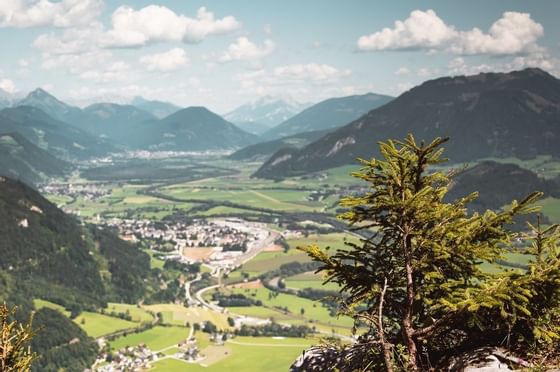 Hike to the Grimminghütte and the Tressenstein
Length: 7.85 km
Duration: 3:00 h
Ascent: 525 m
Descent: 525 m
Distance from the castle: 8 minutes by car to the parking lot at Schloss Trautenfels
Picture: Christoph Lukas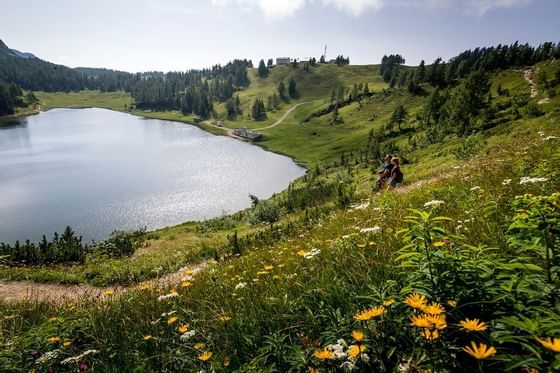 6-lake hike on the Tauplitzalm
Length: 16.03 km
Duration: 5:00 h
Ascent: 493 m
Descent:488 m
Distance from the castle: 36 minutes by car to the parking lot at Schloss Trautenfels
Picture: TVB Ausseerland-Salzkammergut, Tom Lamm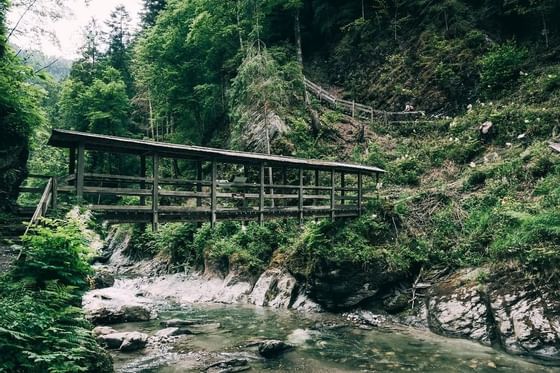 Circular hike through the Donnersbachklamm
Length: 5.43 km
Duration: 2:15 h
Ascent: 212 m
Descent: 212 m
Distance from the castle: 10 minutes by car to the parking lot at Gasthof Leitner
Picture: Armin Walcher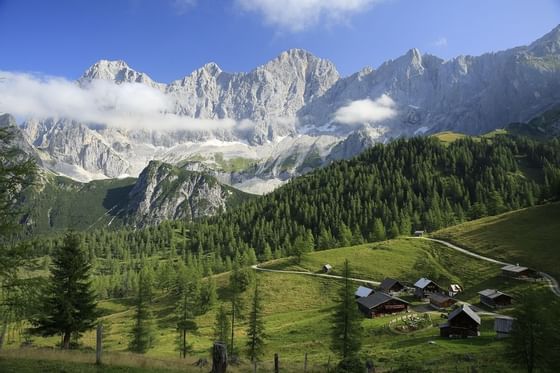 5-hut path on the Dachstein glacier
Length: 14.50 km
Duration: 4:00 h
Ascent: 933 m
Descent: 933 m
Distance from the castle: 49 minutes by car to the parking lot at Gasthof Edelbrunn
Picture: Schladming-Dachsein, Herbert Raffalt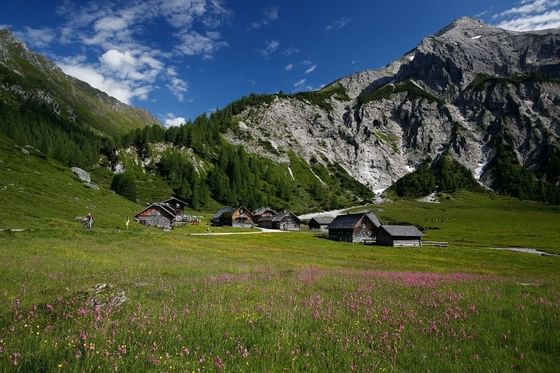 Circular hike-Ursprungalm
Length: 1.45 km
Duration: 0:33 h
Ascent: 30 m
Descent: 30 m
Distance from the castle: 34 minutes by car to the parking lot at Planet Planai (Schladming), from there with the buses of the Planai-Hochwurzen-Bahnen to the Ursprungalm
Picture: Schladming-Dachsein, Herbert Raffalt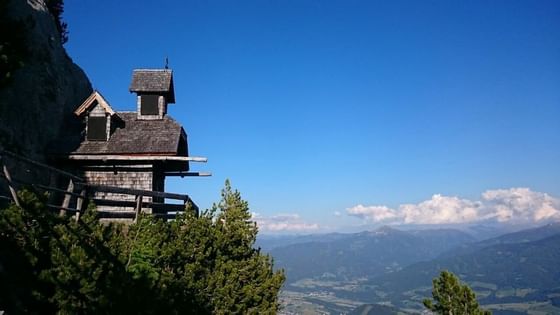 Summit hike to the Stoderzinken and Friedenskircherl
Length: 2.37 km
Duration: 1:07 h
Ascent: 257 m
Descent: 50 m
Distance from the castle: 35 minutes by car to the parking lot at Steinerhaus (Stoderzinken)
Picture: TV Gröbmingerland