Our castle. GOES FURTHER.
Cross-country ski resorts in Styria.
We go where the tranquillity is. The field of snow stretches out in a vast expanse; Ingrid has been dreaming of this peaceful white for weeks. For hours, their trail takes them through untouched snow, encircled by the mountain panorama. The castle brings life to this love for cross-country skiing, making sure Ingrid is ideally equipped before sending her into the surrounding landscape. And then: snow, faster and further than before.
Two cross-country skiing regions.
Grimming Donnersbachtal and Bad Mitterndorf, in the Ausseerland-Salzkammergut region.
White in all directions.
112,700 metres of piste for all levels of ability.
Set out straight from the castle.
Resorts with direct access at the castle.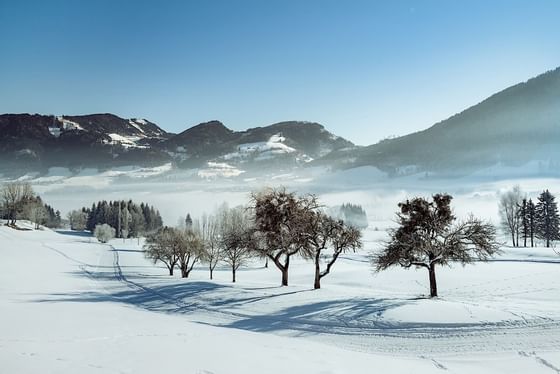 Grimming-Donnersbachtal
Golf course trail Aigen - directly at Schloss Pichlarn
open
Type: Classical / Skating
Length: 2,500 m
Difficulty: easy to medium
Entry: Directly at the golf course of Schloss Pichlarn (Midway House)
Trail: The Golfpaltz trail is connected to the Lantschern trail in Aigen
For a detailed map of trail directly at Schloss Pichlarn please click here.

Lantschern trail
Type: Classic / Skating
Length : 3,500 m
Difficulty level: easy
Access: Lantschern fire department store and Danglmaier in Lantschern
Distance to the castle: 2.3 km, 4 minutes drive
Connection trail: Lantschern trail in Aigen is connected to the golf course

Trail Wörschach
Type: Classic
Length: 8.000 m
Level of difficulty : light
Entfernung zum Schloss: 12,7 km, 19 Minuten Fahrtzeit
Einstieg: Sportplatz Wörschach in der Au

Höhenloipe Planneralm
Typ: Klassisch / Skating
Länge: 4.000 m
Schwierigkeitsgrad: selektiv und anspruchsvoll
Einstieg: Kinderland auf der Planneralm
Entfernung zum Schloss: 19,7 km, 28 Minuten Fahrtzeit

Loipe Vorderwald in Donnersbachwald
Typ: Klassisch / Skating
Länge: 6.000 m
Schwierigkeitsgrad: leicht bis mittelschwer
Einstieg: Ortszentrum Donnersbachwald (hinter der Bushaltestelle)
Entfernung zum Schloss: 17,9 km, 22 Minuten Fahrtzeit

Loipe Hinterwald in Donnersbachwald
Typ: Klassisch / Skating
Länge: 10.000 m
Schwierigkeitsgrad: leicht
Entry: Parkplatz Riesneralm
Distance to the castle: 17.9 km, 22 minutes driving time
Foto (c) Richard Schabetsberger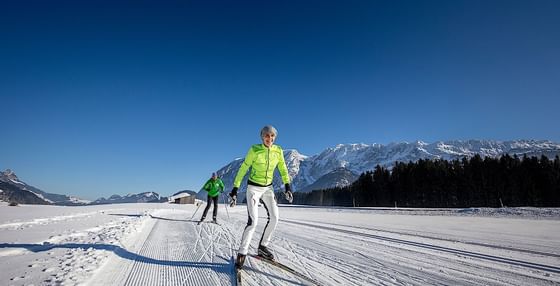 Bad Mitterndorf, Ausseerland - Salzkammergut
Kulm Trail
Type: Classic / Skating
Length: 5,800 m
Difficulty level: easy to moderate
Access: Tauplitz train station
Distance to the castle: 11.6 km, 14 minutes drive

Krungl trail
Type: Classic / Skating
Length: 5.100 m
Difficulty: easy
Access: Landhotel Kanzler in Krungl, Gasthof Neuwirth in Zauchen, Hotel Grimmingblick in Bad Mitterndorf
distance to the castle: Landhotel Kanzler: 14,6 km, 16 minutes driving time; Gasthof Neuwirth: 15.5 km, 17 minutes drive, Hotel Grimmingblick: 17 km, 19 minutes drive

Trail Neuhofen
Type: Classic / Skating
Length: 4,300 m
Difficulty level: easy
Entry: Neuhofen
Distance to the castle: 17.6 km, 19 minutes drive

Artificial snow track
Type: Classic / Skating
Length: 3,400 m
Difficulty: moderate
Entry: Steirerhütte and Sonnenalm, Bad Mitterndorf
Distance to the castle: Steirerhütte: 19 km, 22 minutes drive, Sonnenalm 20.2 km, 21 minutes driving time

Obersdorf Trail
Type: Classic / Skating
Length: 7,400 m
Difficulty: medium
Access: Steirerhütte, Sonnenalm and Obersdorf, Bad Mitterndorf
Distance to the castle: Steirerhütte: 19 km, 22 minutes drive, Sonnenalm 20.2 km, 21 minutes Driving time, Obersdorf: 21.3 km, 22 minutes drive

Thermenloipe
Type: Classic / Skating
Length: 6,400 m
Difficulty level: easy
Access: GrimmingTherme, Neuhofen
Distance to the castle: 18.7 km, 22 minutes drive

Krunglbach trail
Type: Classic / Skating
Length: 2,800 m
Difficulty level: moderate
Entry: Moor and thermal bath Heilbrunn, Neuhofen
Distance to the castle: 20.3 km, 25 minutes drive

Sport Trail Kragl
Type: Classic / Skating
Length: 7,000 m
Difficulty level: difficult
Entry: Near Moorland and Heilbronn Heilbrunn, Neuhofen
Distance to the castle: 20.3 km, 25 minutes drive

Ödensee Trail
Type: Classic / Skating
Length: 6,700 m
Difficulty level: easy
Entry: parking lot near Pichl-Kainisch station, car park Ödensee
distance to the castle: parking lot near Pichl-Kainisch station: 26.1 km, 25 minutes drive, parking Ödensee: 28.3 km, 30 minutes drive

Pichlmoos trail
Type: Classic / Skating
Length : 3.900 m
Difficulty level: easy
Access: Sportstüberl Pichl-Kainisch
Distance to the castle: 24.2 km, 23 minutes drive

Knoppenmoos Trail
Type: Classic / Skating
Length: 6,400 m
Difficulty level: easy
Access: Journey Stieger, Pichl-Kainisch
Distance to the castle: 24.5 km, 27 minutes drive

Freiberg Cross-country ski trail, Place Tauplitz
Type: Classic / Skating
Length: 6,400 m
Difficulty level: easy
Entry: tennis court, Tauplitz
Distance to the castle: 12.4 km, 16 minutes drive

Local trail Tauplitz
Type: Classic / Skating
Length: 6.000 m
Difficulty: moderate
Entry: Village hall, Tauplitz
Distance to the castle: 12.4 km, 16 minutes Journey time

Lärchenwald trail, Tauplitzalm
Type: Classic / Skating
Length: 6,000 m
Difficulty level: moderate
Entry: Parking Tauplitzalm Alpine Road and mountain station 4-person chairlift
Distance to the castle: Valley station 4-person chairlift: 12.4 km, 16 minutes driving time. Parking Tauplitzalm Alpine Road: 25.6 km, 35 minutes drive

Falling Cycle Trail, Tauplitzalm
Type: Classic / Skating
Length: 5.100 m
Difficulty level: easy
Access: Parking Tauplitzalm Alpine Road and mountain station 4-person chairlift
Distance to the castle: Valley Station 4-person chair lift: 12.4 km, 16 minutes drive, parking Tauplitzalm Alpine Road: 25.6 km, 35 Minutes driving time
Foto (c) TVB Ausseerland - Salzkammergut / Tom Lamm