Our castle. A PLACE FOR WINTER WANDERING.
Snowshoe hikes in Styria.
Whether on short shoes or long, there are wonderful hikes to be had here. At the castle, the surroundings are celebrated in winter – and there's no better way to do so than stomping through pristine fields of snow together. Linda, Erwin and Hannes met each other while exploring the vast expanses of white. Hannes enthuses about hiking around the castle's golf course, while Erwin recommends the longer snowshoe tour to Rossfeld: here, you feel closer to the sky, the brilliant blue almost within reach. Linda trudges on, letting their light-hearted conversation wash over her. She is enjoying the sensation of simply being. The castle looks on in approval.
Header picture (c) Gerhard Pilz
Snow hikes.
Up to 660 vertical metres.
White in all directions.
Hikes with a walking time of between 1 and 5 hours.
Castle hike.
Snowshoe hike directly on the castle grounds.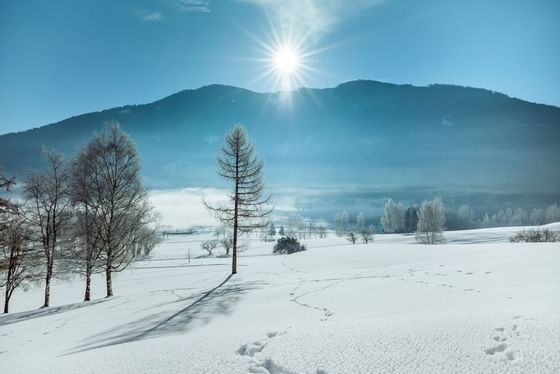 Grimming-Donnersbachtal
Snowshoeing at Schloss Resort terrain
In winter you have the opportunity to explore the hotel's golf course with snowshoes.

High Trett in Aigen im Ennstal
Duration: 4,45 hours Walking time
Altitude: 660
Starting point: Möslhof mountain farm in Vorberg
Distance to the castle: 9.1 km, 17 minutes drive

Jochspitze on the Planneralm
Duration: 2.45 hours Walk
Altitude: 450
Starting point : Planneralm car park
Distance to the castle: 19.7 km, 28 minutes drive

Hintere Mörsbachalm in Donnersbachwald
Duration: 4.45 hours Walking time
Altitude: 630
Starting point: Parking Donnersbachwald town center / Hotel Stegerhof
Distance to the castle: 17.9 km, 22 minutes driving time
Foto (c) Richard Schabetsberger
Schladming-Dachstein
Snowshoe tour to the Rossfeld
Duration: 2 hours Walk
Altitude: 284
Starting point: Talstation Gipfelbahn Hochwurzen
Distance to the castle: 46,1 km, 45 minutes drive

Rohrmooser Schneeschuhtour
Duration: 1,17 hours Walking time
Altitude: 199
Starting point: Talstation Gipfelbahn Hochwurzen
Distance to the castle: 46 , 1 km, 45 minutes drive

Snowshoe tour to the Gasselhöhe
Duration: 1 hour Walk
Altitude: 143
Starting point: Gleiming, Silver Jet gondola lift
Distance to the castle: 46.2 km, 41 minutes drive
Foto (c) Gerhard Knaus